Construction of the Final Groundwater Remedy
Phase 1 Construction Project Initiation Meeting held October 2, 2018
A Phase 1 Construction initiation meeting was held on October 2, 2018, in Needles, California. Over eighty individuals participated in the initiation meeting, including representatives from DOI, DTSC, the U.S. Fish and Wildlife Service, Native American Indian Tribes (Fort Mojave Indian Tribes, Chemehuevi Tribe, Cocopah Indian Tribe, and the Colorado River Indian Tribes), and key construction contractors involved in the initial construction activities. The initiation meeting covered initial construction activities and schedules, PG&E's health & safety expectations, DOI's and DTSC's expectations, and perspectives of the Tribes.
Groundwater Remedy Construction Temporarily Shut Down in Response to COVID-19 Pandemic
A temporary shutdown of the groundwater remedy construction activities was initiated on April 1, 2020 to increase protection of personnel and the community in response to the COVID-19 pandemic. PG&E continued to operate and maintain the Interim Measure "pump and treat" system (also known as IM-3) to ensure the protection of the Colorado River during this period.
PG&E resumed the construction of the groundwater remedy infrastructures starting May 11, 2020 after a 40-day temporary shutdown as a precautionary measure in response to the COVID-19 pandemic. COVID-19 prevention measures have been implemented to maintain protection for workers and visitors. For information about the COVID-19 pandemic, please visit the California Department of Public Health website.
Construction of the Final Groundwater Remedy Has Begun
Current Construction Activities:
Established a Public Information Trailer in September 2018. The Public Information Trailer provides walk-in access for interested individuals to learn about the PG&E project. The trailer was established as part of a mitigation measure and is a place where the public can visit for information regarding the project.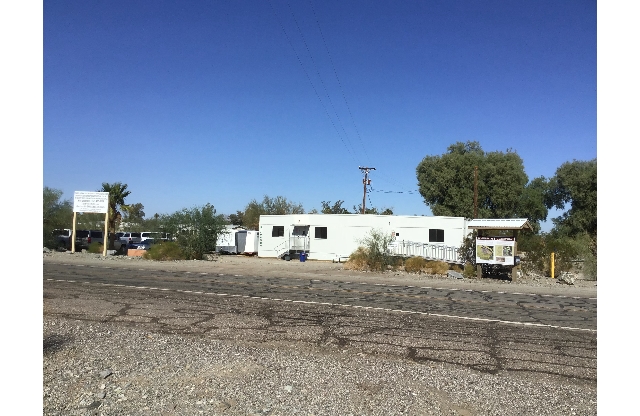 Photograph of the water conditioning tank farm at the Topock Compressor Station. Photograph taken April 23, 2021.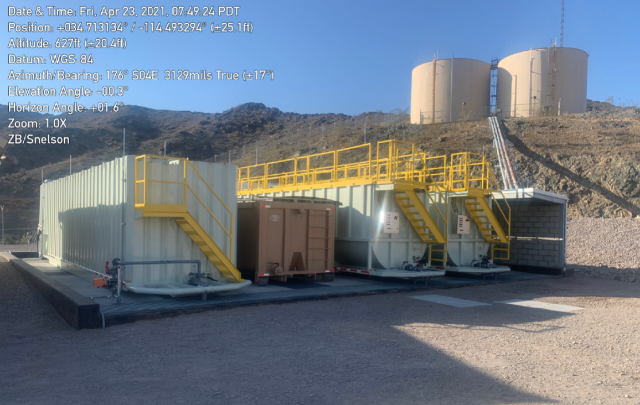 Photographs of IRZ-31 showing before concrete backfill and after concrete backfill. Photographs were taken February 8, 2021.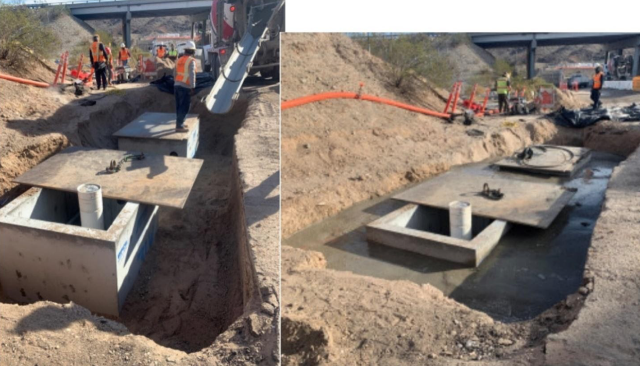 Photograph of creosote bush before transplant, new location for the creosote bush before transplant, and creosote bush after transplant. Photograph taken January 6, 2021.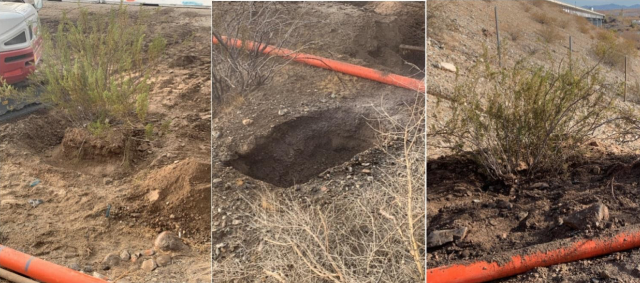 Concrete pour to encase piping installed within Caltrans right of way. Photograph taken week of December 21, 2020.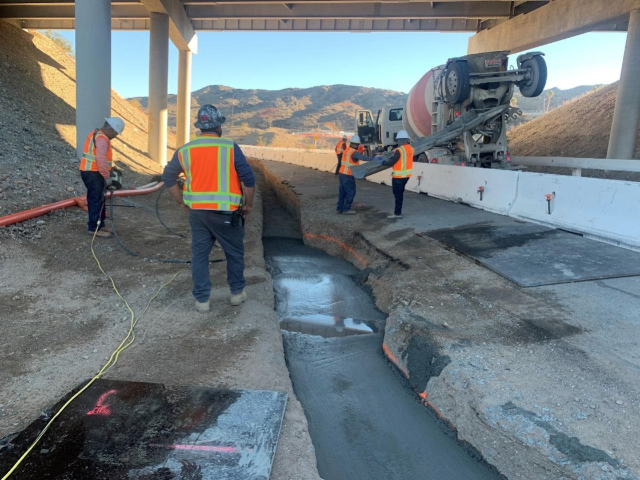 Paving to protect remedy pipeline installed on steep slope. Photograph taken November 10, 2020.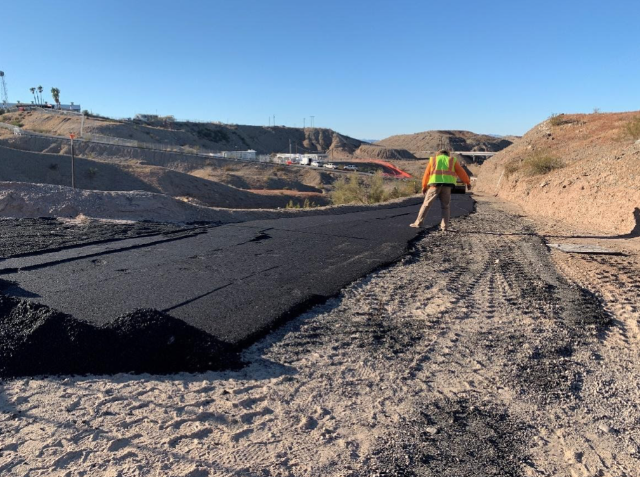 Photograph of herd of bighorn sheep onsite. The herd consisted of two rams (a Class IV and a Class I), nine ewes and three yearlings. Construction work stopped when the bighorn were within 125 feet of activities.  Photograph taken November 2, 2020.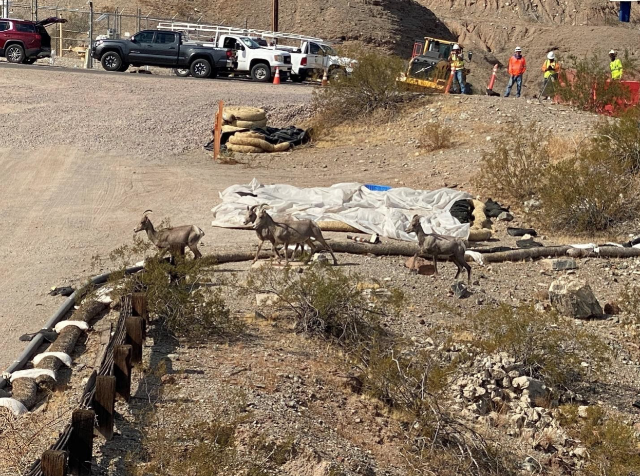 Photograph of the building at the MW-20 Tank Farm. Photograph taken January 2021.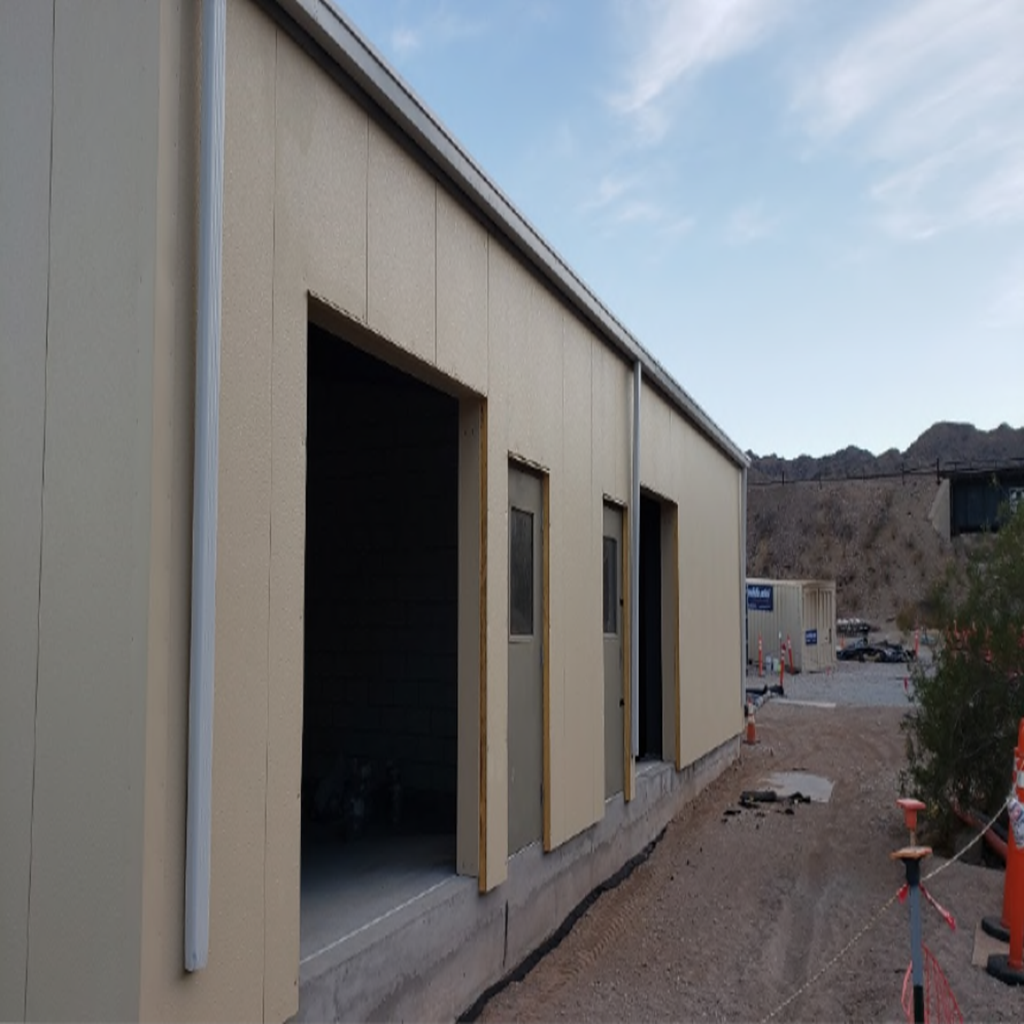 Photograph of the completion of the drilling of the pipeline under the National Trails Highway (using the jack and bore method). Photograph taken week of August 24, 2020.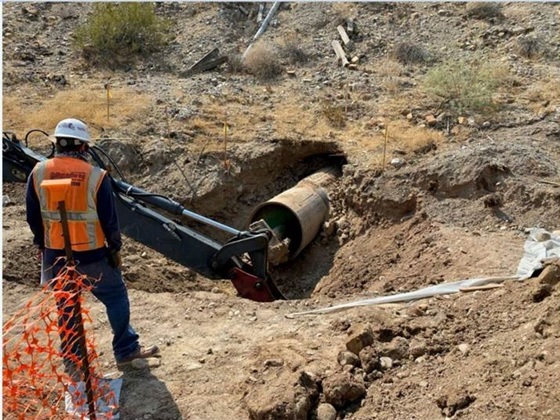 Vegetation clearance during pipeline construction. Photographs show before and after removal. Photographs were taken June 25, 2020.
Backfilling of a trench with remedy pipeline. Photograph taken July 31, 2020.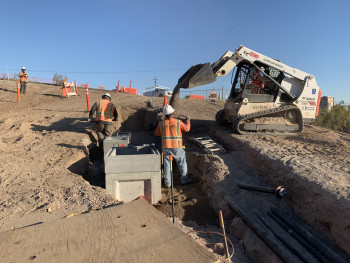 Photograph of soil piles in the Soil Processing Yard. Photograph taken May 20, 2020.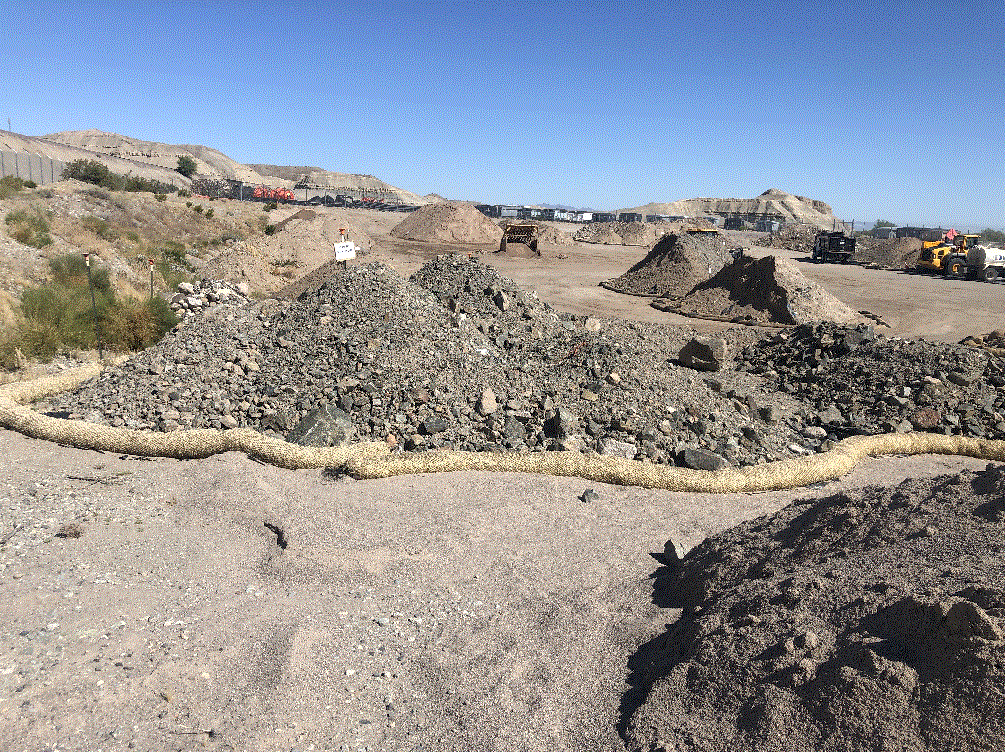 Photograph of an open pipeline trench before the pipeline was installed. Photograph taken January 28, 2020.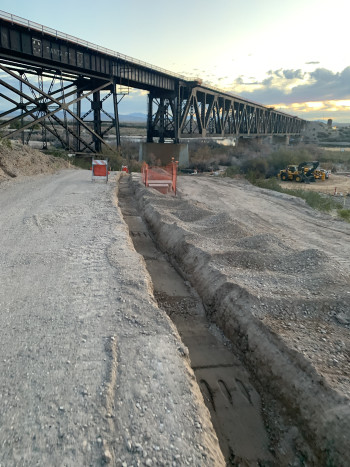 Photograph of hydrostatic testing of pipelines. Photograph taken January 22, 2020. 
​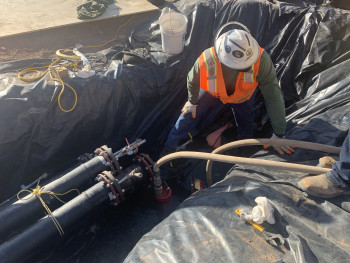 Photograph of workers pouring a concrete apron for well completion at MW-S. View is facing northeast. Photograph taken January 10, 2020.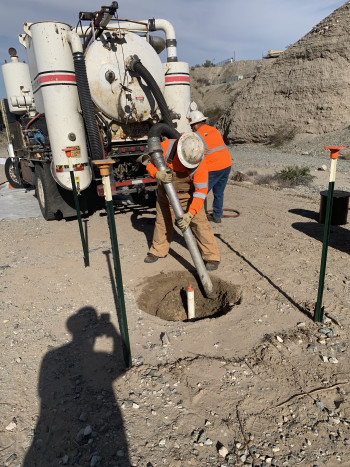 Photograph of ring-tailed cat footprints on the shore near MW-Y' in Arizona. Photograph taken November 6, 2019.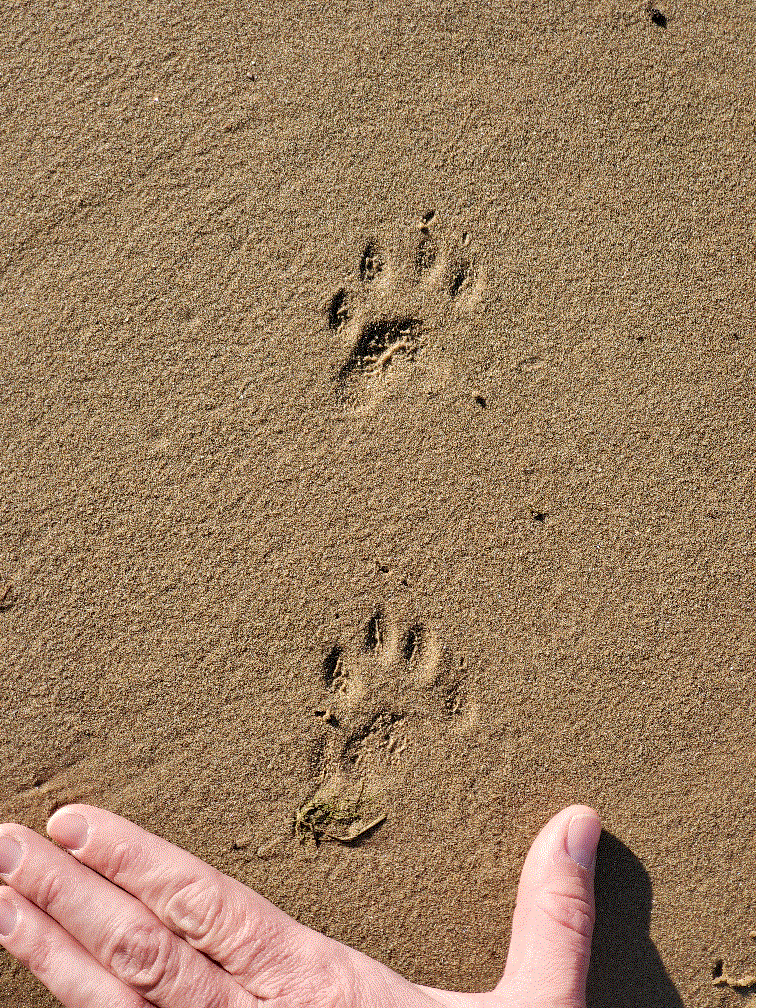 Photograph of drilling well MW-S. View is facing east. Photograph taken October 22, 2019.
Photograph of bobcat fixing the access road to MW-S. Photograph taken September 12, 2019.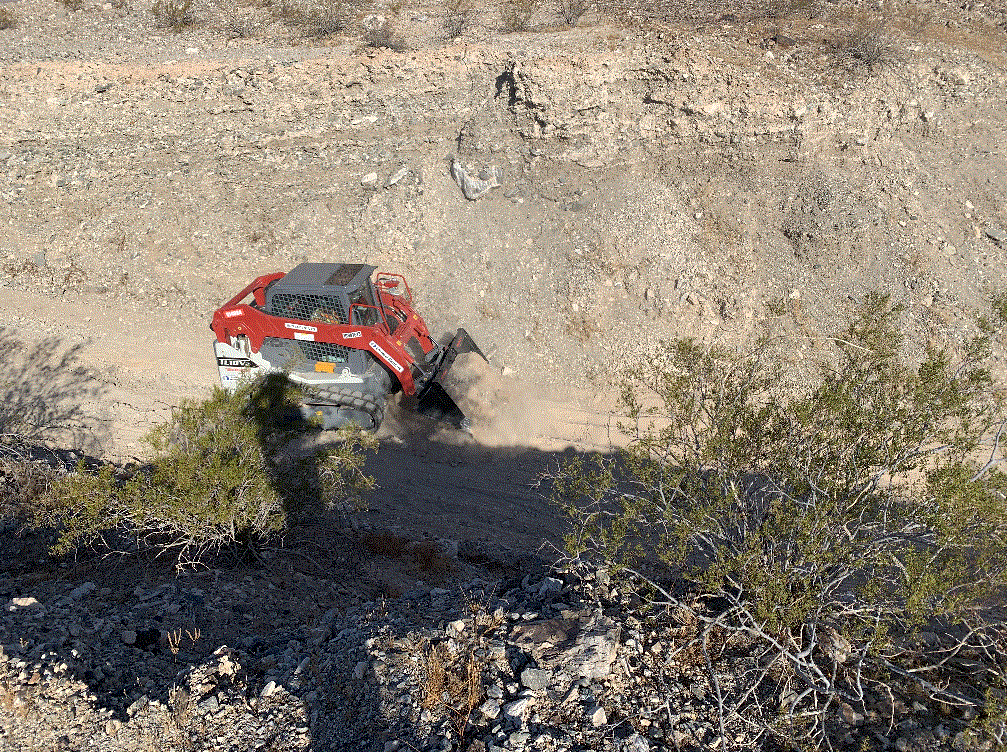 Photograph of workers and drillers drilling at IRZ-21. View is facing East. Photograph taken August 28, 2019.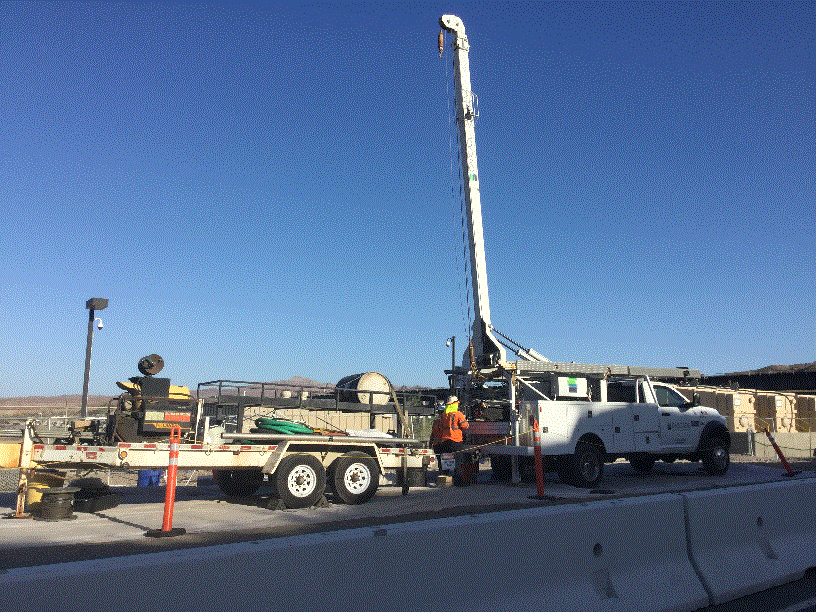 Photograph of core samples from MW-X. View is facing west. Photograph taken July 17, 2019.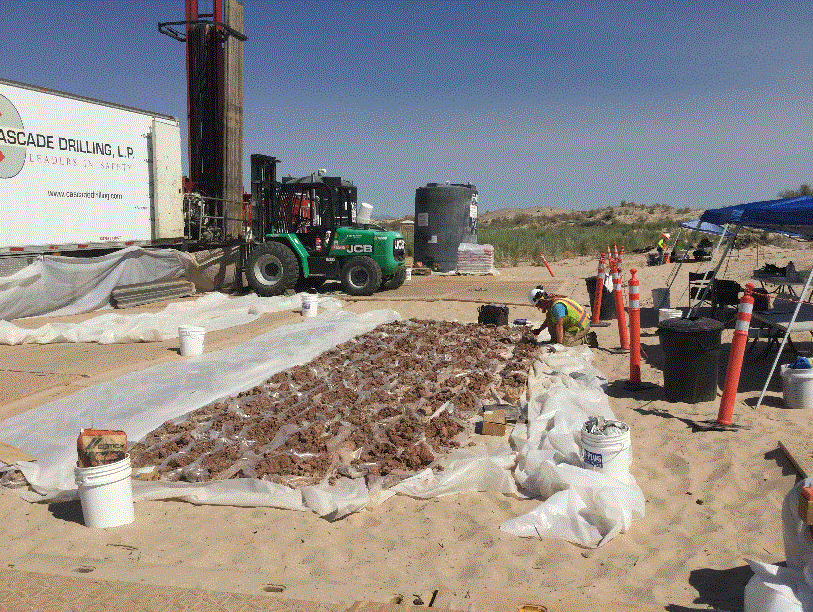 Mats were placed on the floodplain to facilitate access for drill rigs and construction equipment/vehicles over loose sand.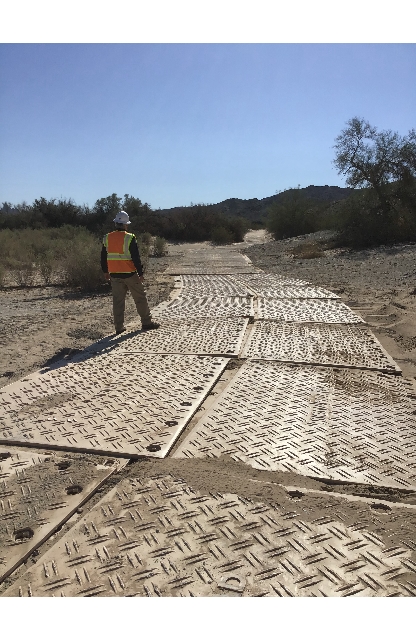 Drilling of monitoring wells started in November 2018.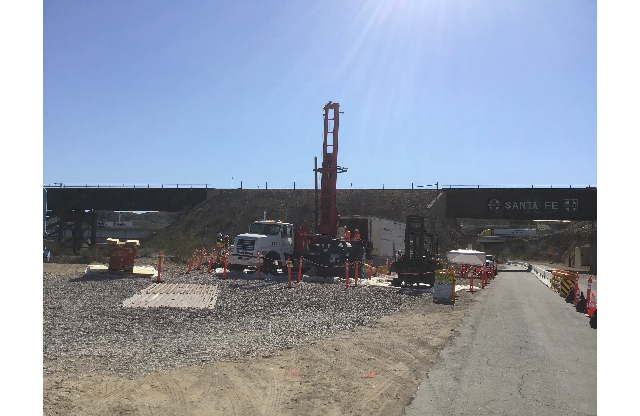 Installed protection measures for sensitive biological and cultural resources. For example, in the image below, snow fence was temporarily installed to protect sensitive plants (such as the Palo Verde plant) during construction activities.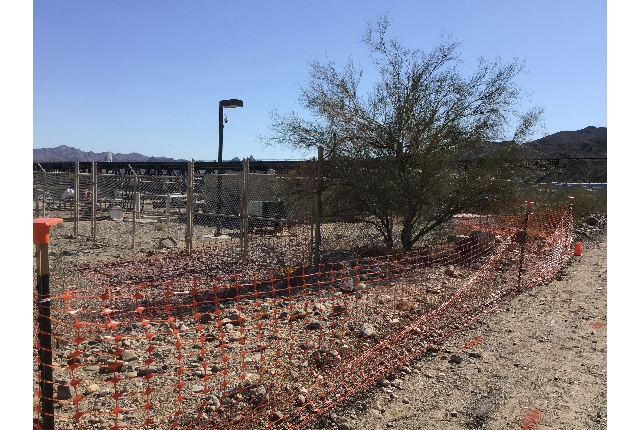 Image of the green stakes used by the biologist to show biological clearance of an area.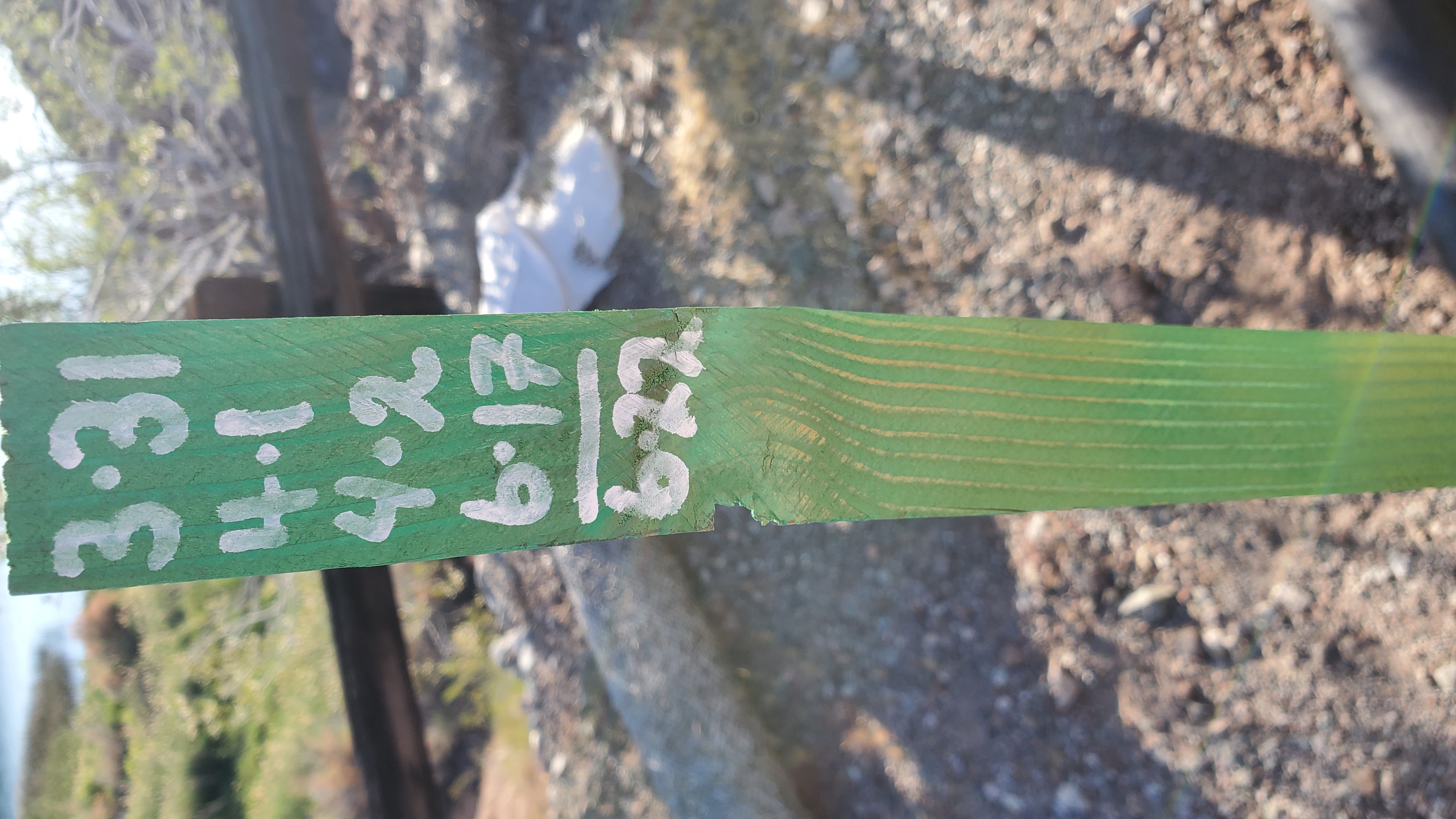 Installed informational sign near the Public Information Trailer on construction dust notifications, on September 20, 2018.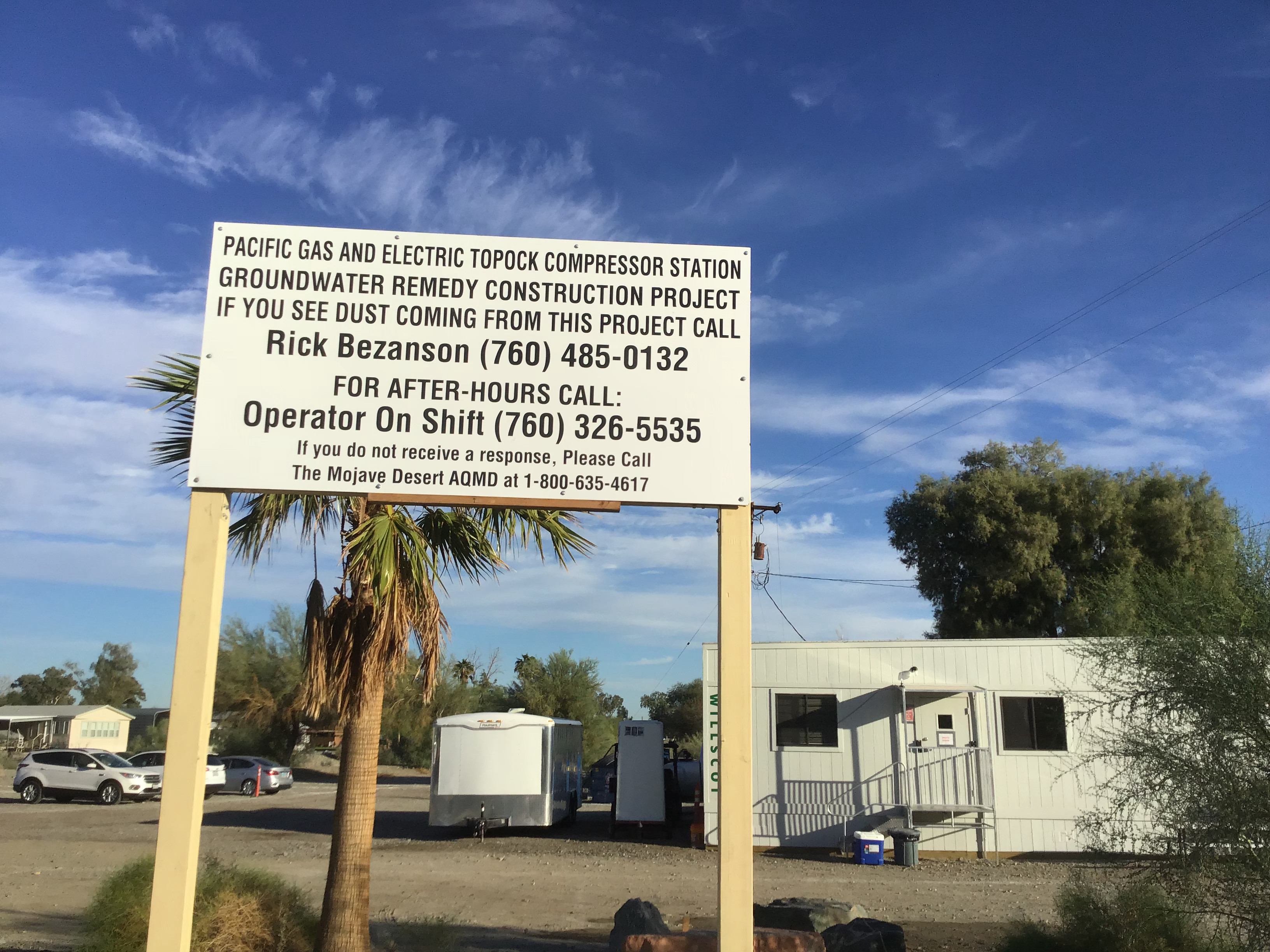 Installation of a Kiosk to provide information about the project.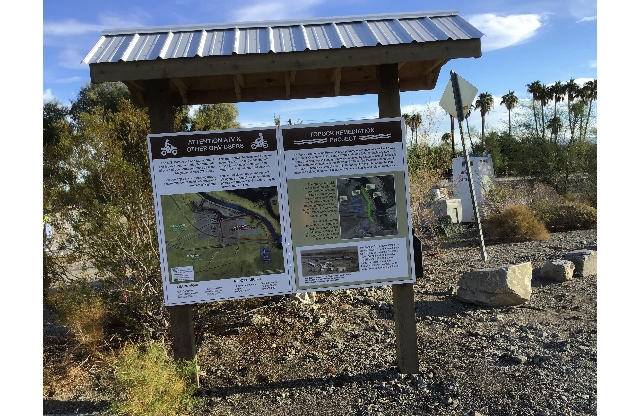 Installed traffic control on National Trails Highway (NTH) to facilitate construction activities along the south end of NTH.