Communities
The Pacific Gas and Electric Company (PG&E) Topock Compressor Station (Station) is located in eastern San Bernardino County about 12 miles southeast of the city of Needles, California, and sits just south of Interstate 40, one-half mile west of the Colorado River. The Station is surrounded by land owned by PG&E, the Fort Mojave Indian Tribe, BNSF Railroad, and federal lands, including the Havasu National Wildlife Refuge managed by the U.S. Fish and Wildlife Service, and lands owned and/or managed by the U.S. Bureau of Reclamation and the Bureau of Land Management. These federal lands also cross the Colorado River, extending into Arizona. The Topock Project Site (Site) includes the Station property, as well as the area overlying the hexavalent chromium plume and the properties that contain the Interim Measures facilities.
There are no hospitals, schools, or daycare centers located within 5 miles of the Station. The nearest residential community is Topock, Arizona, approximately one-half mile east across the Colorado River. The town of Golden Shores, Arizona is approximately 5 miles to the northeast across the river. The City of Needles, California is approximately 12 miles northwest along Interstate 40. The closest hospital is located in Needles, California, and the closest schools are located across the river in Golden Shores, Arizona. San Bernardino County's Moabi Regional Park sits 1 mile northwest of the Station on a side channel of the Colorado River. Downstream along the Colorado River are the cities of Lake Havasu, Parker, and Yuma, Arizona (18, 40, and 137 miles away, respectively).
(Click on images below for larger view)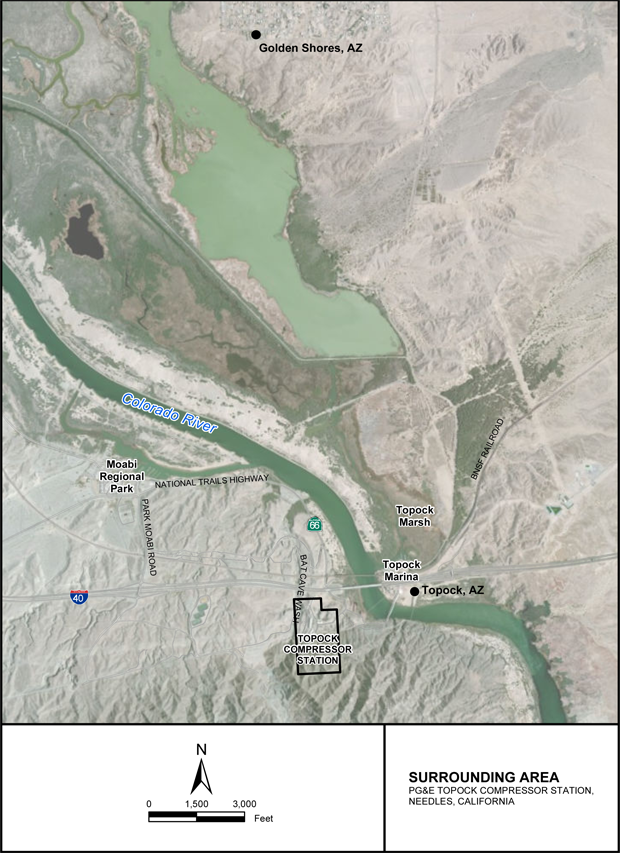 Six federally recognized Native American Indian Tribal Nations have lands that border the Colorado River as it flows south through California and Arizona to the Mexico border. These six Tribal Nations are the Hualapai Tribe, Fort Mojave Indian Tribe, Chemehuevi Indian Tribe, Colorado River Indian Tribe, Fort Yuma-Quechan Indian Tribe, and the Cocopah Indian Tribe. The Fort Mojave Indian Tribe is the closest to the Site, located approximately 7 miles to the north. Four other Tribal Nations that have been identified as stakeholders in the Project are Havasupai, Torres-Martinez Desert Cahuilla, Yavapai-Prescott Indian Tribes, and the Twenty-Nine Palms Band of Mission Indians. California Department of Toxic Substances Control (DTSC) continually offers to meet with Tribal representatives to update them on the Topock Investigation and Remediation Project. See the map of Colorado River Communities and Tribal Reservations below.
Information repositoriesDesignated locations that provide public access to site-related documents as required by the DTSC. in surrounding communities keep copies of Site-related documents available for public review. For information repository locations, contacts, and hours of operation, please visit the Information Repository page. More information about these communities can be found in the 2019 Community Outreach Plan in the Document Library.